More than 120 participants took part in the SheMet'99 in Erlangen from September 27-28, 1999. The conference presented the latest research and developments in the field of sheet metal manufacturing.
Not only the basic research, but also industrial applications were covered by more than 70 presentations. Material aspects, various sheet metal manu-facturing processes (e. g. cutting, forming, welding) as well as special topics like hydro-forming and microtechnology were discussed in several sessions. Other sessions were discussing modelling with FEM, quality aspects or manufacturing systems.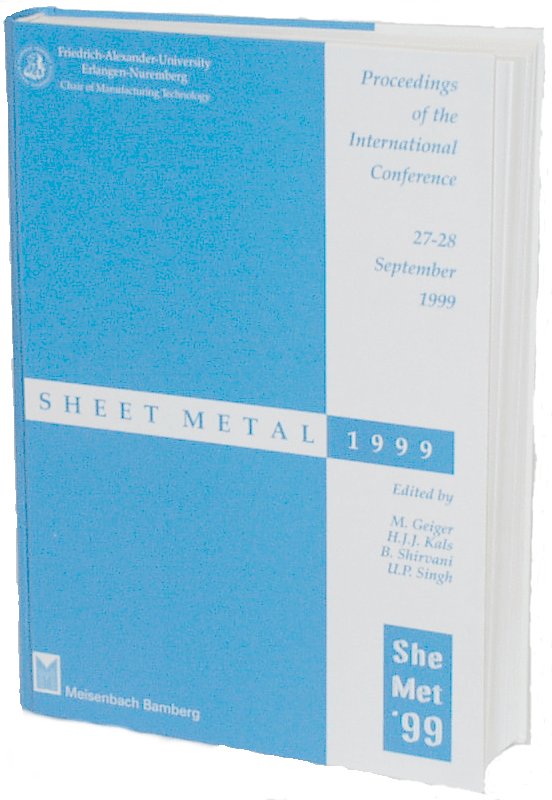 All papers of the SheMet'99 are published in the Conference Proceedings (ISBN 3-87525-110-5, A4, 20 + 636 pages):
Geiger, M.; Kals, H.J.J.; Shirvani, B.; Singh, U.P. (edtrs.): Sheet Metal 1999, Proceedings of the 7 th International Conference on Sheet Metal - SheMet'99, Erlangen, September 27-28, 1999. Bamberg, Meisenbach, 1999.
The proceedings that were sold for 80,- Euro are sold out. We can however offer you the Conference CD that holds all papers as PDF-files. The cost would be 40,- Euro plus shipping and handling. If you are interested in purchasing the CD please contact the SheMet-Team.
For your convenience you can take a look at the table of contents. We also put the abstracts online.